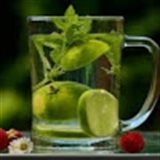 Indian Recipes's dishfolio

Indian Recipes and Home Remedies is a blog with the Indian Recipes information (Ingredients,step by step Procedure with Photos) which is helpful for food lovers. This Blog also provides you the information about the Home Remedies for health which are Natural


Member Since: Nov 3, 2016


Last Posted Recipe: Feb 16, 2017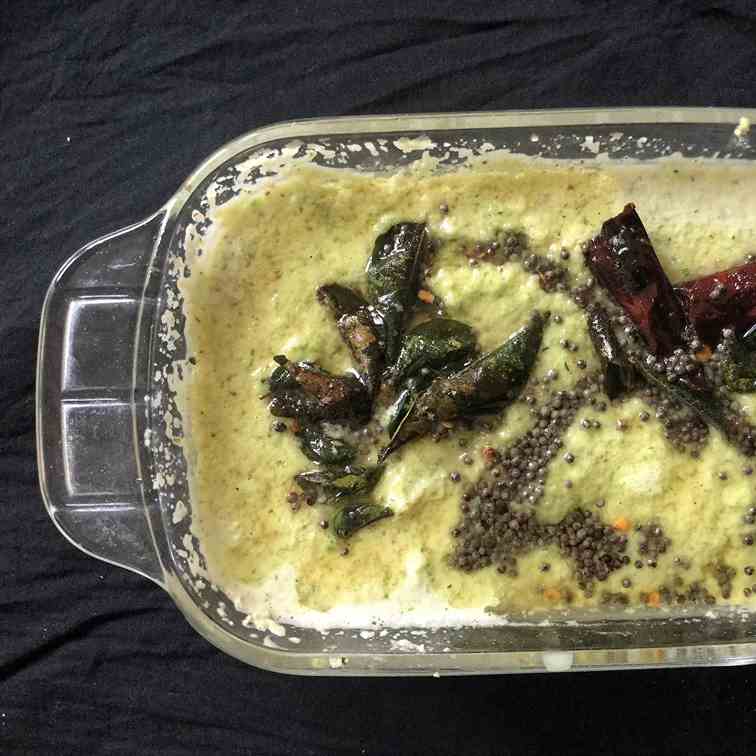 Coconut Chutney - South Indian Recipe
South Indian food - If we are preparing a south Indian dish like Idli or Dosa, the first thing comes to our mind is the coconut chutney and a bowl of sambar. Chutney is one of the easy recipes to make which requires less time and less number of ingredients. Indian Cuisine is incomplete without chutney. Chutney plays a very important role in Indian meals. Chutney can be dry or wet, chutney can be sweet, sour or spicy. Chaat items like Pani-Puri, Ragada Patties, Aloo Chaat are incomplete without a Tamarind and Pudina Chutney same way dishes like Idli, Dosa, Uttapam is always incomplete without a coconut chutney. Chutney helps in digestion, also it adds it's own flavor to the dish. In south India, dry chutney is called as podi. Podi is generally served with idli and Dosa.
by Indian Recipes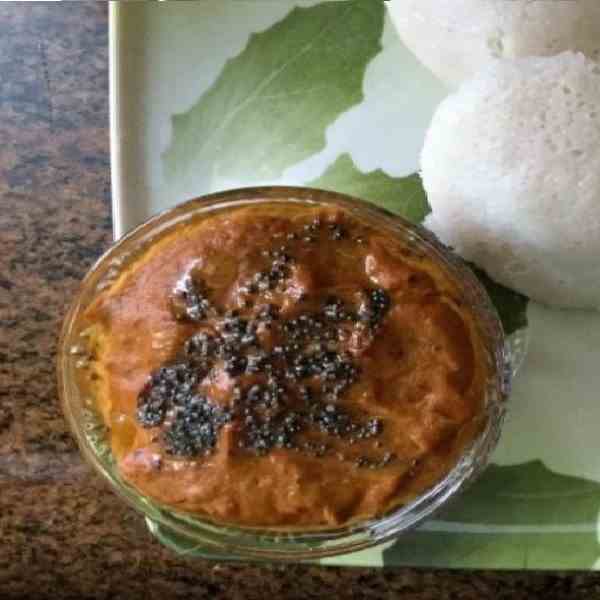 Recipe For Tomato Chutney - A Tangy and Sp
Tomato relish is the tangy and spicy chutney that you can replace with the coconut chutney if you have any cholesterol problem or if you are on diet and do not want to consume coconut. You can use this tomato chutney for Dosa also for Idli. It is also called as thakkali chutney in Tamil, as tomato called as thakkali in Tamil.
by Indian Recipes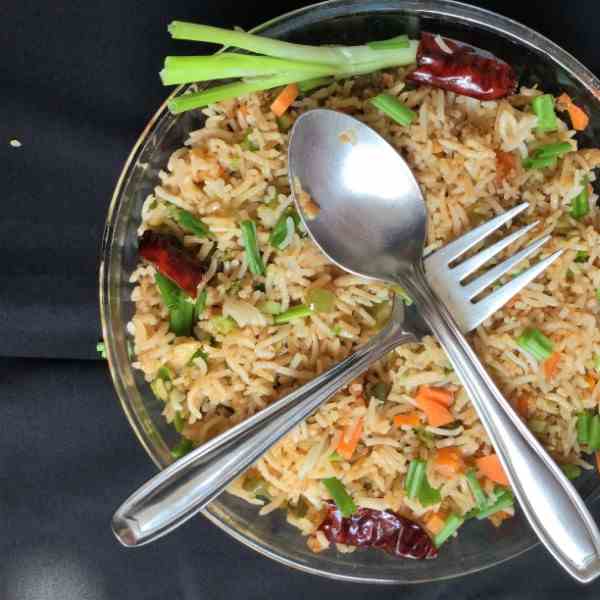 Chinese Fried Rice - A Healthy Fried Rice
Chinese Fried Rice - A Healthy Fried Rice Recipe for Chinese food lovers.Chinese Fried Rice - A Healthy Fried Rice Recipe for Chinese food lovers.Fried rice is one of our favorite Chinese food. This Vegetable fried rice is a healthy rice recipe as it contains loads of vegetables and rice. Nowadays children are very fussy about eating vegetables, for such children this Chinese fried rice is a healthy option. This fried rice recipe tastes more Chinese than the Indian version (Indo-Chinese). Add celery if available to give authentic Chinese taste.But if it is not available you can skip it, as there is no other substitute for this.
by Indian Recipes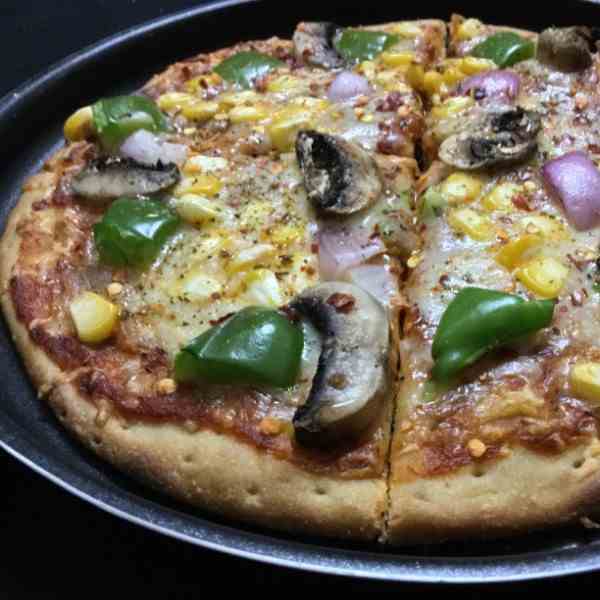 Forget About Domino's Pizza ,Try Home Made
Everyone likes pizza, especially children. But it is not always feasible and affordable to visit the restaurant.But now you can make pizza at home (whole wheat crust pizza) which is healthy pizza as this is made up of Wheat flour. Also, it will be Hygenic as it is made at home. You can enjoy the pizza party with friends, once you try this cheese pizza recipe.
by Indian Recipes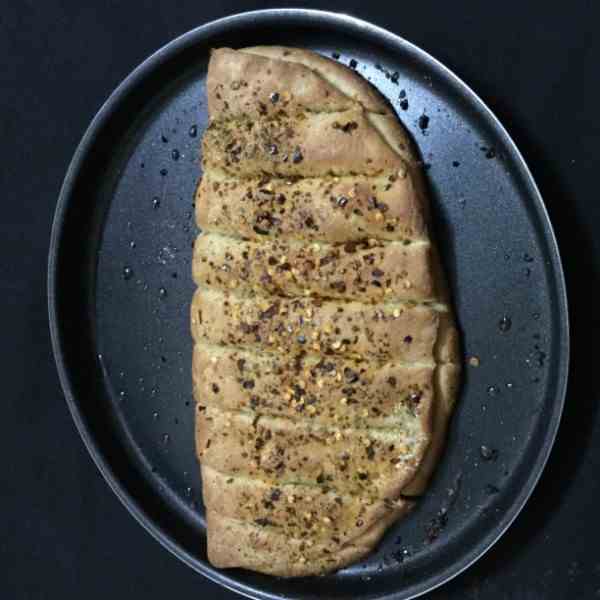 Garlic Bread Recipe - Homemade Cheese Stuf
Everybody like garlic cheese bread. Children go crazy about it. But every time to buy a garlic bread from a restaurant is not affordable and it's not good for health also, as it made up of maida. Here I have given cheese bread recipe made with the wheat flour. This is a healthy recipe, as the bread is made up with wheat flour. So without fear you can give this to your children. Serve this garlic bread in party snack.
by Indian Recipes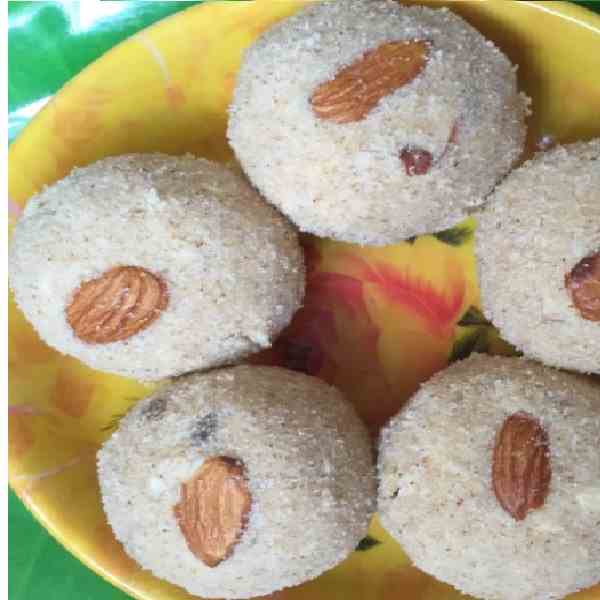 Rava Laddu (Sweet Dish)
Rava laddu (It may spell as ladoo or laadoo), is a special Diwali Sweet.This is a ball-shaped sweet popular in India. These Sweet laddus are a healthy, tasty and delicious treat for your children. This is a very quick recipe for a sweet, with very less number of ingredients like rava, sugar, coconut, ghee ( Clarified Butter )and some dry fruits.Rava is called as semolina in English.
by Indian Recipes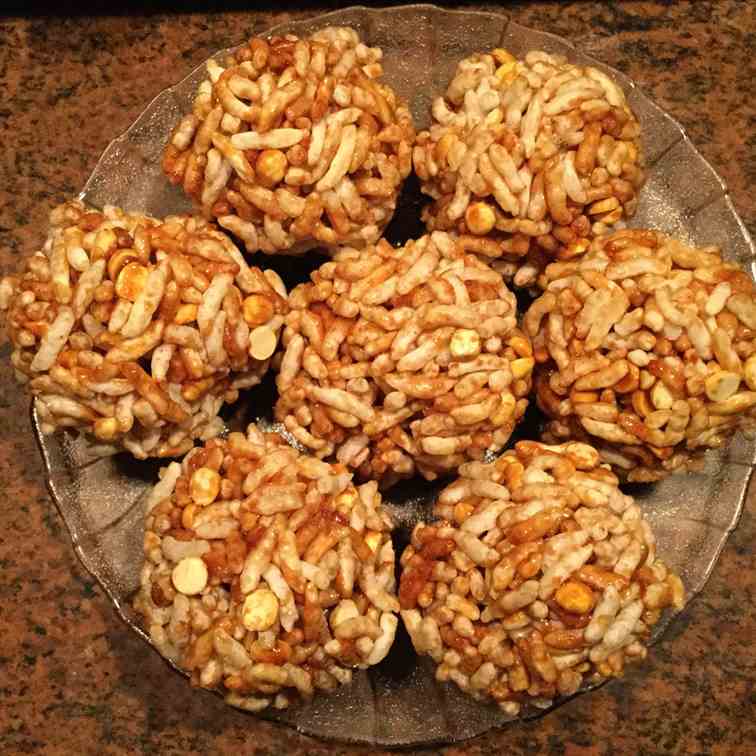 Puffed Rice Laddu (Puffed Rice and Jagerry
Puffed rice laddu is a crispy, crunchy, light and healthy recipe. This is a recipe without oil or ghee. It is a sweet recipe so children will love this. It is a very simple easy recipe which requires very less number of ingredients as puffed rice, jaggery and fried gram(optional). It is healthy snacks for kids as the main ingredient is jaggery, which is full of iron and minerals like zinc, selenium, and potassium.
by Indian Recipes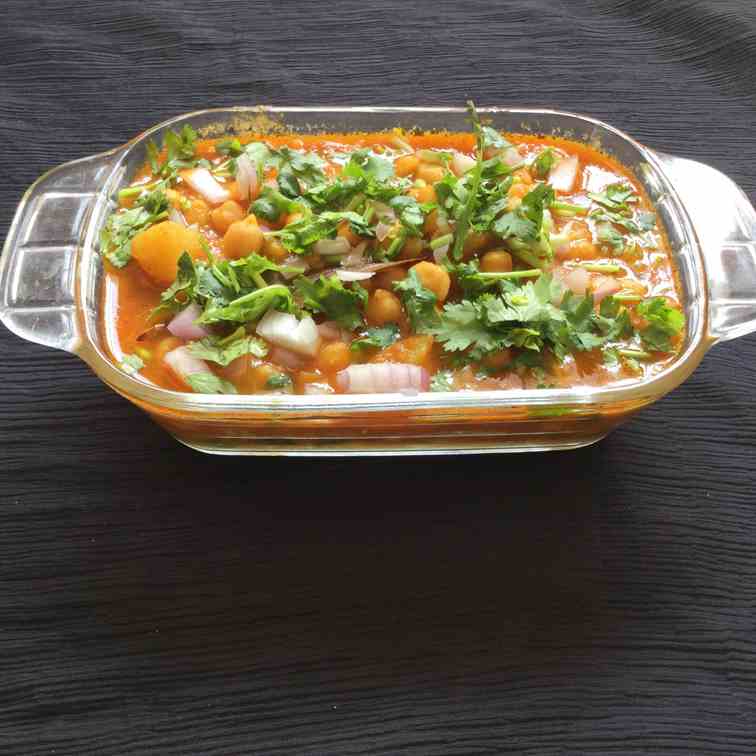 Kabuli Chana Masala-Chickpeas in spicy cur
Kabuli Chana Masala / Chhole is a delicious Punjabi recipe popular all over India. It is a healthy recipe, as the white chickpeas (Kabuli Chana) are full of protein. It is a spicy curry prepared with the Chana, onion, tomato, ginger, garlic and some Indian spices like Star Anise, Black Cardamom, Bay Leaf. To get an authentic Punjabi taste put one teabag ( or tie one teaspoon of tea powder in a clean cotton cloth ) while cooking the chana.It gives a dark color to the chana and also gives a nice flavor.
by Indian Recipes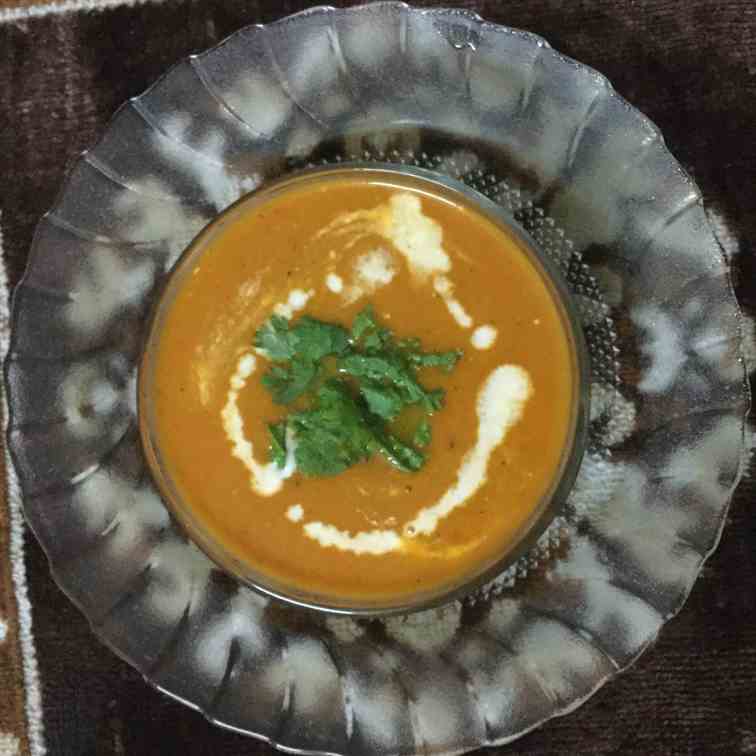 Cream Of Tomato Soup (Healthy Soup)
Tomato soup is an appetizer which is tasty and healthy. Tomato Soup Recipe is an easy and less time-consuming soup recipe. It is a healthy soup in real means as it contains tomatoes, Carrots, and Beetroots. Instead of paying in a restaurant,you can make this amazing recipe at home.
by Indian Recipes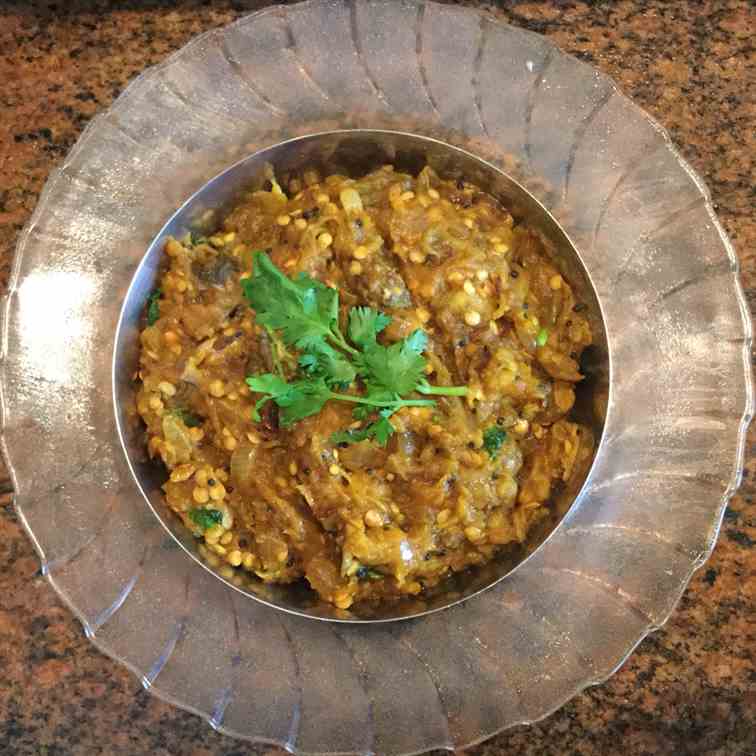 Baingan Bharta - Spicy Eggplant Puree
Baingan Bharta is a popular north Indian Dish which is prepared by direct roasting of an eggplant on a stove.This vegetable recipe is an easy recipe that can be served with Bread, Roti, Chapati or Naan. The aroma of roasted eggplant increases the appetite.
by Indian Recipes
Puffed Rice Chivda- Easy and Quick recipe
Indian Puffed rice chivda is a quick and easy recipe, which is flavored with peanuts, Split Fried Gram,Curry leaves, Green chilies, and spices. It is a light and healthy snack . It tasty and healthy Snack for Kids that kids can enjoy anytime.Store it in an airtight box, it will remain fresh and crunchy for 3 to 4 weeks.The combination of Caramelized sugar and Red chili powder gives it a nice savory taste. As it is a dry and lightweight snack, it is comfortable to carry during travel. Hope you will enjoy this Snack Recipe.
by Indian Recipes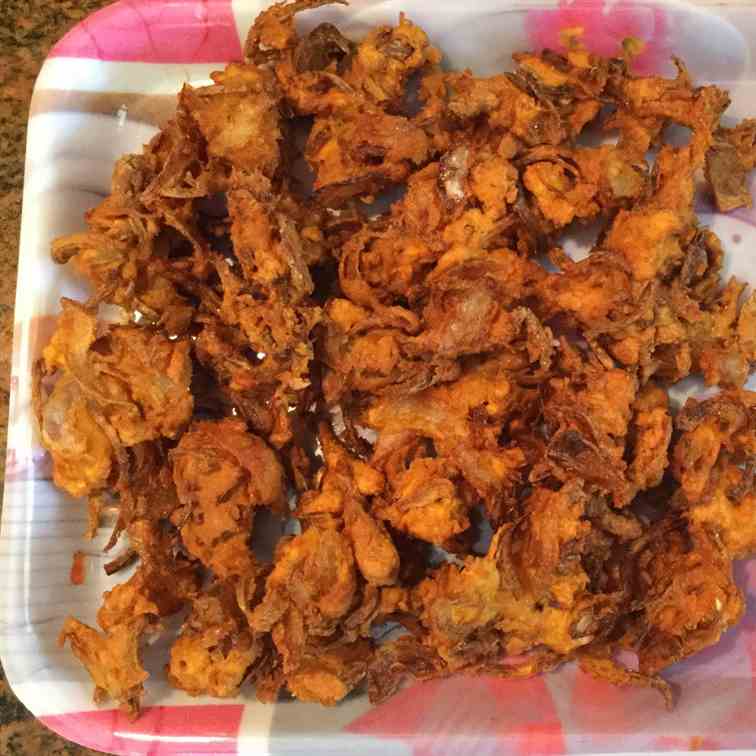 Crispy Onion Pakora or Kanda Bhajji
Onion pakora is one of the popular street snacks in Maharashtra. It is quick and easy to make. Also , it is a monsoon special snack dish. Onion Pakora is also called as Kanda Bhajji ( Kanda = Onion, Bhajji = Pakora or Pakoda ). It is a deep fried snack made with the gram flour and onions, spiced with red chili powder.
by Indian Recipes
Showing 1 - 12 of 12 Recipes