Food Blogger Interview: Nora M of Treat and Trick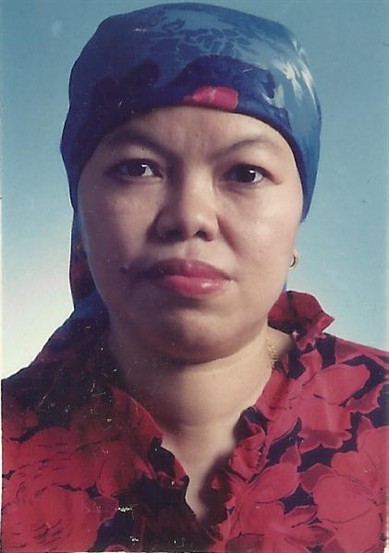 Dishfolio is always excited to welcome talented and emerging food bloggers who have amazing tips and knowledge to share with the Dishfolio community. Today, we have Nora M of Treat and Trick, whose blog showcases all her tried and tested recipes including bread, eggless baking, dessert, vegetarian and non-vegetarian cooking, and snacks from all over the globe and a bonus of useful household and kitchen tips as well.
Tell us about your food blogging goals: What are they? How are you accomplishing them?
Goal setting is so critical as a blogger. One of the hardest parts of setting a goal is to make sure it is realistic enough to achieve. This requires a sacrifice, full time dedication and a drive to fulfill your dreams, you can't expect changes overnight. I am so delighted that a few of my creations have been tried with successful result. Most of the time, I have received a positive feedback and have been featured in various blogs. Having said that, hopefully my blog would be an ideal source for those looking for recipes and give me an opportunity to gain more traffic.
To be a successful blogger, one need to post regularly, if possible something related to the current hot topic. Be innovative and different from the rest. Be responsive to all your readers' comments. Leave comments on other blogs to drive more traffic. Make sure to include your blog URL Submit your post to popular search engines such as Google and Yahoo also to social bookmarking sites. Participate on all available contest or link parties.
Who is your foodie hero and how do they inspire you?
My foodie hero is none other my mother. I'm really impressed with limited resources (no internet, no television, without kitchen gadget and cookbook) my mom could able to whip a dish that was incredibly unique and delicious.. She uses what is available around her with so much love. One fine example is a coconut. She could create a dessert, snack and even a main dish out of this, so creative and full of wonderful ideas.
What's your go-to literary tool and how does it make your food blog successful?
I believe that with minimum ingredients and easy
methods, you can still whip up a delicious meal. Always consider others special requirement (egg free, low fat, low sugar, wheat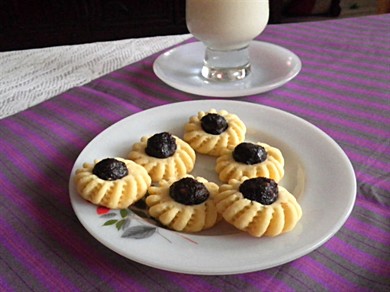 free or gluten free) and cooking methods in case that particular kitchen gadget isn't available also provide a suitable substitution. Importantly, what you shared will work and have been tested in your kitchen.
Describe your all-time favorite recipe.
My all time favorite recipe is Healthy Breakfast Bars posted on my blog. They are portable and made with wholesome ingredients, so much better from what you get from supermarket shelf. The bars contain no wheat, no butter and egg free. They are versatile; chances are you'll able to modify my recipe with different ingredients. They all follow the same basic formula.
What's the best food photography tip you've learned in the past year?
The source of light is very important to get a perfect result. At the moment I always shoot my photos in the afternoon using natural light near my window. Besides the lighting there are other elements that determine how your photo will look like.

Shutter speed controls how long light enters the lens and hits the image sensor of the camera. Longer shutter speed allows more light into the camera but more chance for blur. Shorter shutter speeds let in less light. You need to choose a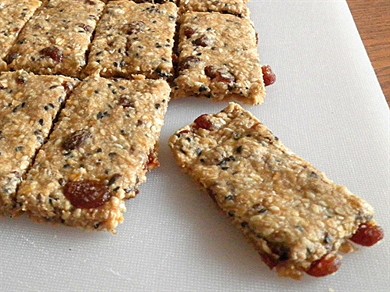 shutter speed that lets in just the right amount of light, to give a photo, which is not too bright (overexposed).
Aperture is the size of the opening of the camera lens. A large opening (smaller F-stop like f/4) allows more light into the camera while smaller opening (bigger F-stop like f/22) let in less light.
How many cookbooks do you own and which do you reach for most often?
I have 10 cookbooks but this Asian cookbook is my most trusted source. It is called THE MPH COOKBOOK by Zarinah Anwar. This book contains an authentic and most reliable recipes. I have tried her recipes; all of them are a hit with my family and friends.
What keywords or cooking types would you like to be best known for?
Eggless baking, yeast bread, healthy cooking, easy cooking.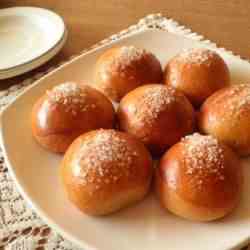 Milk Coffee Buns
Fluffy buns with a hint of coffee flavor
by Treat and Trick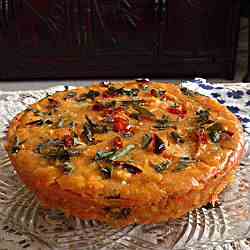 Savory Onion Corn Bread
Quick and savory bread loaded with healthy ingredients
by Treat and Trick