Pineapple Harbanero Salsa for Cinco de Mayo!
By Chris of Sharedappetite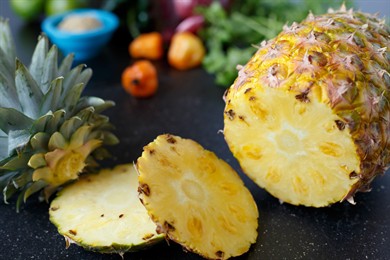 Cinco de Mayo is right around the corner and I'm like a little kid on Christmas Eve waiting anxiously for Santa to hurry up already. I don't really know how Cinco de Mayo became one of my favorite holidays. Maybe it's my natural affinity for Mexican food. Or maybe because it's a laid back day all about just having a good time with friends. There's no pressure. Oh, and a couple of margaritas surely doesn't hurt either.
I've been cooking up and sharing tons of Cinco de Mayo recipes all month long over at Shared Appetite in preparation for the big day. Carnitas. Southwest wontons. Burrito bowls. Homemade tortillas. And I'm just getting started. But what makes me most happy on that day, more than anything else, is a big bowl of tortilla chips surrounded by all different kinds of salsa.
This is the salsa that I'm required to make at almost every party. A couple of my friends demand it. They will disown me from the circle of trust if I fail to deliver.
Pineapple and habanero just want to be together. Who doesn't love fresh pineapple? It's one of life's most wonderfully sweet, natural pleasures. Pairing it with the fiery bite of habaneros makes for one ridiculously addictive salsa.

Listen. I know what some of you are thinking. What's the harm in cutting a few corners and just conveniently grabbing a can of pineapple? Blasphemy! Put that can down and walk your little behind down to the produce section. Don't be intimidated by breaking down a whole pineapple. It's all bark and no bite.
Scoring a ripe pineapple is super important. Ripe ones will smell that way, so give that nose a work out. No smell = not ripe. If it smells a bit fermented, it's overripe and deteriorating. Ripe pineapples will also be firm to the touch and yield only ever so slightly. If it's soft or spongy, pass.
I used to think that a pineapple is ripe when you can easily remove a leaf from it's crown. Oh, you too? Apparently they lied to us all these years. Revenge must be ours.
I know this recipe calls for a lot of 1/2 of this and 1/2 of that. Feel free to double the recipe, but just know it will make a ton of salsa. You better be really hungry. Personally, I usually make this salsa for some sort of friendly get-together, so I never have a problem finding uses for the leftover ingredients.
Ingredients
1/2 ripe pineapple, finely chopped
1/2 small red onion, minced
1/2 poblano chile, minced
1/2 red bell pepper, minced
1 scotch bonnet (habanero), very finely minced*
1 lime, juiced**
1/2 tablespoon packed light brown sugar
Handful cilantro leaves, chopped
Pinch Kosher salt
*I highly recommend wearing a plastic glove on the hand that holds the scotch bonnet while mincing. In a pinch you can also just use a ziploc bag as a makeshift "mitten".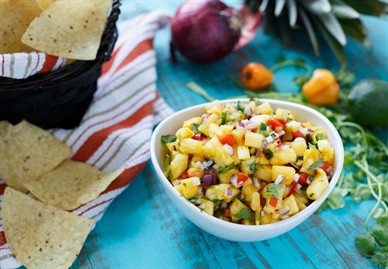 **to maximize juice from your lime, roll it back and forth on the counter under the heel of your hand using medium pressure.
Directions
Combine all ingredients in a medium-sized mixing bowl. Allow the flavors of the salsa to meld for at least 30 minutes, although an hour or two is optimal. You can also make the salsa a day ahead, covering and storing in the refrigerator. Before serving, stir your salsa to redistribute the juices that have pooled at the bottom of the bowl.
Refrigerated salsa will last for several days. And this salsa isn't just for that big bowl of salty tortilla chips. Try using it as a topping for grilled chicken or fish!
Thanks to Chris of Sharedappetite for this great Cinco de Mayo recipe! Shared Appetite chronicles Chris' adventures of eating in and around New York City along with cooking and entertaining at home, and the people Chris gets to share it with along the way.
Want to be a guest food blogger for Dishfolio? Send us an email!
Cilantro Lime Brown Rice
Perfect for burritos, burrito bowls, and as a side to any of your Mexican favorites!
by sharedappetite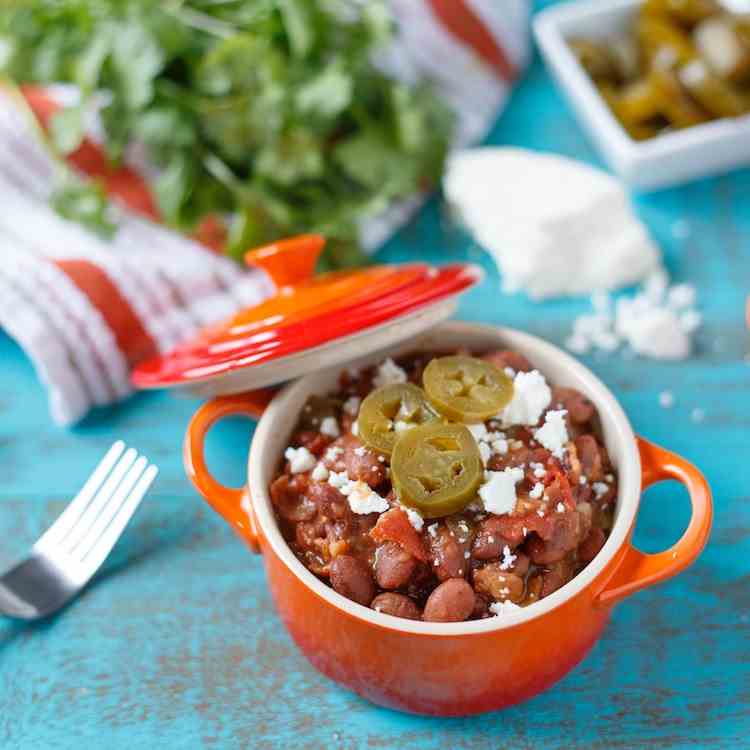 Home-Cooked Cowboy Beans
How to make perfect home cooked Cowboy Beans (Frijoles Charros)
by sharedappetite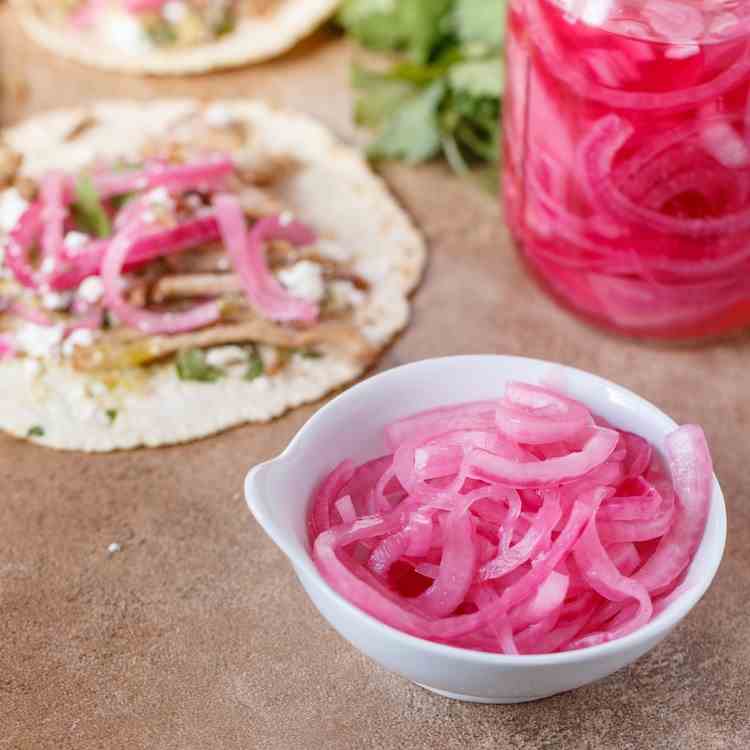 Easy Pickled Onions
They only takes 5 minutes and no cooking required. Adds a perfect, tangy crunch to sandwiches, burgers, tacos, and more!
by sharedappetite